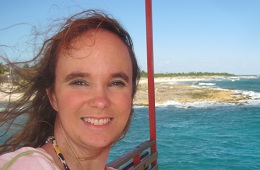 Meet Jennifer Joy Campbell
Jennifer Joy Campbell embraces life completely, always enjoying every moment of every single day. Of course, her greatest passions are traveling, writing, and music. And thanks to the Food Network, her dad's influence, and their travels together, she has turned into a foodie at heart. Whether she is traveling the globe with her dad, teaching her students at Suwannee Middle School, or cooking and baking at home, Jennifer lives life with a smile on her face and joy in her heart.
Jennifer's parents and grandparents taught her the way around the kitchen at a very early age. Her mom never thought twice about baking dozens and dozens of cookies or decorating a beautiful birthday cake to match any theme party Jennifer could imagine. Her dad continues to create masterpieces in the kitchen, from artisan bread, fresh pasta, filet mignon, enchiladas, you name it! Best of all, it's all from scratch.
Jennifer loves to recreate her Grandma Ethel's chocolate pound cake or her mom's infamous tuna seashell salad in their memory. Of course, you might even see Jennifer in the kitchen, whipping up an even better version of a dish she has sampled somewhere around the globe! One of her favorite entrees to prepare is her riff on Alice Springs Chicken at the Outback Steakhouse. Her dad refers to it as Jenny Springs Chicken and those who have tried both say Jennifer's is superior!
Along with savory dishes, she is a passionate baker, always experimenting with new recipe ideas, such as her most recent creation: indulgent trail mix chocolate chip cookies.
When Jennifer is not in the kitchen or in her classroom, she loves to travel the world by automobile, train, plane, ship, or any other method of transportation! Whether she is exploring the countryside or touring a city, she is constantly on the lookout for the next best kept secret and she is so happy that you are here, reading about her journeys. Having traveled to four continents and over 50 countries and possessions, Jennifer is grateful for the experiences she has been blessed with and she looks forward to the next time she embarks on a road trip, hops a plane, or boards a ship!
To learn more about Jennifer, visit her website at http://www.jennifercampbell.net.