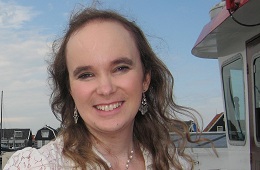 About Jennifer's Journeys
Have you ever wondered what it would be like to stand on top of the Acropolis in Athens, float on a bamboo raft through the Jamaican jungle, or stand in awe of the majestic Matterhorn? Get ready for an unforgettable adventure as you explore the ultimate food and travel blog that will take you to dazzling destinations and tantalize your taste buds. All from the comfort of your own living room!
Imagine sinking your teeth into a succulent Greek pastry on the island of Santorini paired with a refreshing swim in the cool, vibrant blue waters of the Mediterranean Sea, exploring the ancient city of Ephesus and then taking a stroll through the Grand Bazaar in Kusadasi, or enjoying a private balcony seat on 42nd street in the Big Apple followed by a visit to Katz's Delicatessen or Grimaldi's Pizza. Jennifer Joy Campbell has traveled to four continents and over 50 countries and possessions to discover the ultimate travel and food destinations. Jennifer's Journeys will take you on a journey like no other!